Mission
GENERATÍV, Ltd., was founded in 12th February 2002
Education of adults
Consultant and training activities in the area of human resources development
Development of personal skills and improving attitudes of individuals, teams and companies we are changing their work habits, mentality and way of communication .
We participate to the participants in our courses achieve their goals and resolutions, so that they live this way joy, happiness and contentment .
For individuals we increase the need for greater efficiency to their own lives and through training courses satisfy this need . For companies we increase sales and efficiency, strengthening their position in the market .
Vision
To educate, promote and continuously contribute to the personal growth of individuals and companies
Being a leader in the field of education and consultant activities of adults in Slovakia
To apply the latest research findings in practice objectives
Goals
Our main goal is to enhance communication (business, management), increase productivity and by that efficiency of the whole society .
To improve the communication inside and outside of company
To implement foreign and own know-how to Slovak conditions
By Interactive way to educate managers, employees of sales and marketing
To implement the analysis of educational and presentation activities in order of their maximum effect
To analyze the situation of communication in companies
To educate entrepreneurs, and by that to contribute to increased magnification and business activities.
CEO
Ing. Vojtech Dúl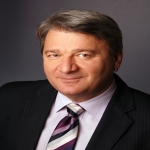 Manager
Ing. Denisa Dúlová